12/29/18: Updates from Balsa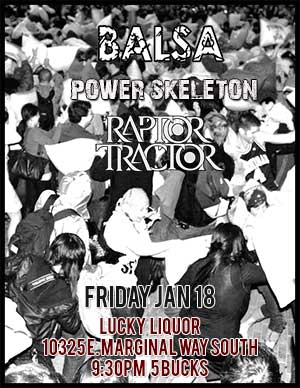 Some overdue news --
First, Balsa is back in action. Janet Trares has taken over on drums and we're thrilled to have her in the band.
Second, we're doing shows again! Our first time out with the new lineup will be
January 18 at Lucky Liquor
-- one of our favorite places to play -- along with the punk destruction of
RAPTOR TRACTOR
and sublime noise of
POWER SKELETON
, two of our favorite bands to play with.
Get the details here
and let us know if you're going!
It's a new beginning for Balsa and it's good to be back.
BALSA
POWER SKELETON
RAPTOR TRACTOR


RSVP on Facebook
Lucky Liquor
10325 E Marginal Way S
Tukwila, WA
9PM, $5, 21+