07/09/17: July 29 at lucky Liquor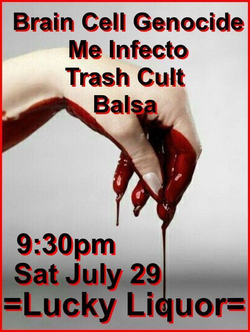 It's a killer lineup at Lucky Liquor on a Saturday night with hardcore, noise, punk and all that. What more could you want?
BALSA will open things up so get there early, then stay for TRASH CULT, the revived noise duo ME INFECTO and the hardcore thrash of BRAIN CELL GENOCIDE!
BRAIN CELL GENOCIDE
ME INFECTO
TRASH CULT
BALSA


RSVP on Facebook
Lucky Liquor
10325 E Marginal Way S
Tukwila, WA
9PM, $7, 21+