04/29/17: Thursday May 4 at Substation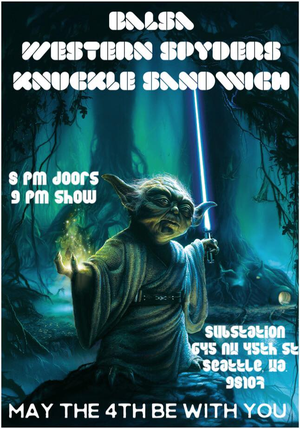 Yes, May the 4th be with you! BALSA is back, and this Thursday at Substation we'll be playing a brand new set of songs for the first time including "Burn the Ships", "The Epidemic", "Too Big to Fail" and many more.
We'll be joined by WESTERN SPYDERS bringing the rawk from Tacoma and KNUCKLE SANDWICH from Auburn ready to crush - don't miss it!
BALSA
WESTERN SPYDERS
KNUCKLE SANDWICH


RSVP on Facebook
Substation
645 NW 45th St
Seattle, Washington 98107
8PM